SEO for Hair and Beauty Salons: Boost Your Rankings On Google And Become The Number 1 Salon In Your Area
Your ability to gain attention as a salon owner in 2023 is becoming harder and harder and the industry is expected to go past 100 billion from 2023 to 2024 and In today's digitally driven world, salons cannot afford to rely solely on word-of-mouth or traditional advertising. Search Engine Optimisation, commonly known as SEO, has emerged as an essential tool for businesses of all sizes.
What is SEO
SEO stands for "search engine optimisation." It's the process of making your website more visible to search engines like Google and Bing by improving certain elements on your website. The higher your site ranks in search results, the easier it is for new customers to find you.
SEO simply helps more people find your business commonly known as traffic. For salons, effective SEO for salons means being discoverable when potential customers search for beauty services or products related to your business.
It's not enough to have the best-looking website, be the most skilled in your area at what you do, or have the highest-quality content anymore. You also need to make sure people can find you online. That way, when they run a search for "hair salon near me" or "best hair salon" you'll be at the top of their list.
If you own a hair salon, beauty salon, or clinic, you know that there's plenty of competition in your industry right now, so its best to make sure you have the highest search results on your brand and not them.
How SEO integrates into beauty marketing.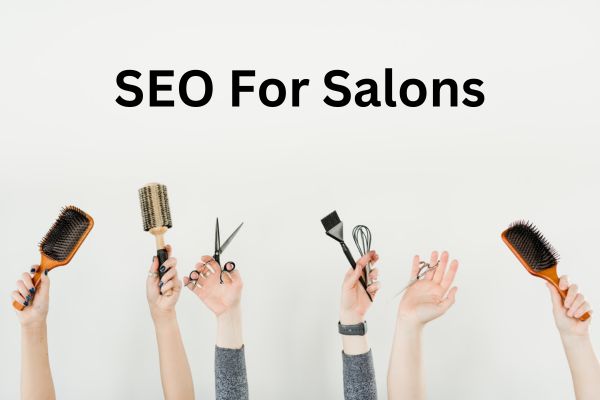 Beauty marketing has undergone a significant shift in the last decade. Instead of just glamorous photos or celebrity endorsements, it's crucial to ensure the digital visibility of your salon. SEO plays an integral role in this.
By optimising your salon's online presence, whether through your website, social media channels, or online listings, you make it easier for search engines to understand your content. This, in turn, increases the likelihood of appearing on the first page of search results, directly affecting your customer acquisition.
Moreover, beauty marketing with SEO integration offers more than just visibility; it provides relevancy. It ensures that your salon reaches the right audience, i.e., people actively searching for services you offer.
What Are The Benefits Of SEO For Hairdressers & Beauty Salons?
When a company name appears prominently in search results, it demonstrates robust lead creation and gains trust from prospective customers. Search engine optimisation, or SEO for salons, is a fantastic approach to raising your salon website traffic, lead generation, and brand exposure all while boosting revenue.
More people will be able to locate your salon website, read more about what you have to offer, get in touch with you, and eventually become clients if you rank higher in Google through your salon seo efforts.
You'll be able to produce more leads with your salon SEO marketing, which will eventually result in more sales. This is due to the fact that a higher search engine ranking means that more people will see your website, which will increase the number of leads you receive.
Let's take a look at some of the benefits that SEO provides for hair and beauty salons:
– Increased salon website traffic: By using keywords in your salon website content and optimising it for the search engines, can increase your salon website traffic, incorporate keywords into your content and optimise it for search engines. This will help your salon website rank higher on search results. This can assist you in connecting with more prospective clients who want your hair and beauty salon services
- Increased sales: Since they will have already derived value from your material, visitors who find what they're looking for on your website are more likely to make a purchase from you. When consumers require something else related to those keywords or topics, they are far more likely to return if they have found value in what you have to offer through search engine optimisation.
- Develops a trustworthy brand: Your salon website will acquire authority in search engine results pages (SERPs) if it has high-quality content and relevant keywords that are thoughtfully inserted throughout the text. This authority increases the possibility of being noticed by prospective
A hair and beauty salon marketing agency that specialises in understanding the nuances of the beauty industry, combined with a deep knowledge of SEO for salons best practices can really help you build a strategy to get ahead of your competition
#1 SEO Advice for Beauty Salons & Hairdressers: Keyword Research
You must choose the appropriate keywords if you want to draw visitors to your website. After you've identified the ideal keywords, concentrate on producing well-written, educational content. High search engine rankings can only be attained by using an SEO strategy that includes both onsite and offsite tactics for the main search engines.
Because they are based on real search data, keyword research tools like Answer the Public, Keyword Tool, and spyfu and seo powersuite are excellent. They can also assist you in identifying the terms and phrases that people use to find your salon on the internet.
Keyword Research: Identifying terms your potential customers use when searching for beauty services.
Think like your customer: What words would someone use if they were searching for a hair and beauty salon? Those are likely the words you want to include on your website and in your content.
Using location-based keywords is super important. Don't forget to include the words "salon," "nail salon," or "spa" treatments and services that you do so people know exactly what kind of business/services you do. So when you bring keywords in you would use the locations with it like Brow Feathering Melbourne, beauty salon perth, spa st catherines, st catherines spa. Sometimes relevant keywords for your brand can go both ways location salon, salon your location. It's important to remember that these keywords should always be relevant to your business.
Don't forget about long-tail keywords: Long-tail keywords are longer phrases (usually 3 or more words), which are more specific than shorter phrases. For example, instead of using "salon," try using "salon located in Sydney or best nail salon in sydney."
#2 Hair Salons & Beauty Salons SEO Tip: Formulate Your Salon SEO Plan
Content Creation: Producing quality content optimised for and resonates with your target audience.
Developing a strong content strategy can assist you in increasing salon website traffic for your company. This template for a Salon SEO content strategy contains content samples, templates, and strategies that could be useful for your own marketing campaigns.
If you want your website to succeed: producing and disseminating informative, original content that establishes your business as a pioneer in your industry.
If you have a blog, be sure to post helpful information, industry news, and the most recent company news on a regular basis. Giving readers the inside scoop is an effective way to keep them engaged on your site and give them something interesting to look at.
#3 TIPS in SEO For Hairdressers & Beauty Salons: Place Keywords In Headings
An attention-grabbing headline will draw readers in and persuade them to continue reading (this is a big part to your salon seo. Your target audience should be catered to by the words you use both before and after the headline. You should use keywords related to your niche sporadically in the body of the post to draw search engines and promote clicks to your website.
#4 Hair Salons & Beauty Salons SEO Tip: Prioritise Local Search
Local SEO: Ensuring that your salon appears in local searches and on map listings.
It's important for you to rank highly in internet searches. The simplest method to make your website more local search engine friendly is to incorporate location keywords into the headings, content, and page titles. Search engine optimisation for your website is an ongoing battle. You must continuously add pertinent keywords to the phrases you index and look for ways to rank for extremely specific terms. Being methodical is usually beneficial, particularly when setting priorities to lessen search engine ranking fatigue.
#5 SEO Advice For Hair Salons & Beauty Parlours Is To Install Google Webmaster Tools
Google Webmaster Tools provides you with the direct IP address and helps you keep an eye on how your website is performing on search engines like Yahoo and Bing. This aids in troubleshooting technical problems and determines whether your website has slowed down or if a page is not loading correctly. If you're experiencing any technical problems with your website, use this tool.
Go to the Search Console on Google
#6 On-site SEO Optimisation for salons:
Ensuring that your website's structure, speed, and design are search-engine-friendly
A great example of on page opimisation is the link here SEO For Salons this link is whats called internal link which tells the google algorithm that the keyword SEO for salons is a direct explanation of what the linked page is about and how google should show that page in a google search
Off-site Optimisation: Building quality backlinks from reputable sources to boost your site's authority.
Off-site SEO optimisation is crucial for salons looking to enhance their online presence and attract more customers. One key aspect of off-site SEO is building high-quality backlinks from reputable websites to your salon's website. These backlinks signal to search engines that your site is credible and authoritative in your industry. Salons can achieve this by reaching out to relevant blogs and websites for guest posting opportunities, participating in industry forums, and networking with local businesses to collaborate on content and link-building initiatives. Additionally, online directories and local business listings, such as Google My Business, Yelp, and Yellow Pages, should be optimised with accurate and consistent salon information, helping to improve local search rankings and increase visibility among potential customers in your area.
Another off-site SEO strategy for salons is online reputation management. Monitoring and managing online reviews across platforms like Google, Facebook, and Yelp is essential. Positive reviews can enhance a salon's reputation and encourage new clients to visit, while negative reviews, if addressed promptly and professionally, can demonstrate commitment to customer satisfaction. Encouraging satisfied customers to leave reviews and responding to both positive and negative feedback can help build trust and credibility online. Additionally, active engagement on social media platforms and participating in local community events can further boost your salon's off-site SEO efforts by increasing brand visibility and establishing your salon as a trusted and respected business in your community.
Practical in Depth SEO tips for salons.
Optimise Your Salon Website's Speed: A slow-loading website can turn visitors away. Tools like Google PageSpeed Insights can offer insights.
To speed up your website, start with fast and reliable hosting and consider using a content delivery network (CDN) for global content distribution. Optimise images and media by compressing and resizing them, and employ lazy loading to defer off-screen images. Minimise HTTP requests by combining CSS and JavaScript files and enable browser caching for static resources.
Optimise your code by removing unnecessary elements, minifying and bundling CSS and JavaScript, and using asynchronous loading for non-essential scripts. Prioritise loading above-the-fold content first for a quicker initial impression. Implement lazy loading for resources below the fold. Utilise mobile-friendly design and monitor your site's performance regularly with tools like Google PageSpeed Insights.
Reduce reliance on third-party scripts, consider server upgrades for high traffic, and keep your database optimised. If using a content management system (CMS), ensure it's up-to-date and use optimised themes and plugins. By following these steps, you'll enhance your salon website's speed and performance, providing a better user experience and potentially improving search engine rankings.
Encourage Reviews: Encourage satisfied customers to leave reviews on Google My Business and other relevant platforms. Positive reviews can boost local salon seo search rankings.
Reviews are a critical component of seo for salons, serving as a valuable source of information for consumers and a powerful marketing tool for businesses. They offer potential buyers insights into the quality, reliability, and overall experience of a product or service based on the real experiences of previous customers.
Positive reviews can build trust and credibility and boosts your salon seo, attracting new customers and encouraging repeat business, while negative reviews, if handled appropriately, can provide opportunities for businesses to identify and address areas for improvement.
For businesses, actively seeking and managing reviews is essential in today's digital landscape. Encouraging satisfied customers to leave positive feedback can help boost a company's online reputation, increase visibility in search engine results, and ultimately drive sales.
Conversely, promptly addressing and resolving negative reviews demonstrates a commitment to customer satisfaction and can mitigate potential damage to a business's reputation. Overall, reviews play a pivotal role in seo and shaping consumer choices and can significantly impact the success of businesses in the online marketplace.
While social media signals aren't a direct ranking factor, an active presence can drive traffic and amplify your SEO efforts.
Social media is a powerful tool for salons when viewed from an SEO perspective. It offers an excellent opportunity to enhance online visibility and engage with the target audience. First and foremost, creating and regularly updating social media profiles can improve a salon's search engine ranking. Search engines consider active social media accounts and relevant content as positive signals, which can contribute to better search results placement. Therefore, salons should optimise their social profiles with relevant keywords, maintain a consistent posting schedule, and share high-quality content related to their services, such as hairstyle tips, before-and-after photos, and customer testimonials.
Furthermore, social media provides a platform for building backlinks to a salon's website. When salons share engaging and shareable content, they can attract links from other websites, blogs, and social media users, which can positively impact their SEO efforts. Social media can also drive traffic to the salon's website, increasing its authority and relevance in the eyes of search engines. Additionally, active engagement with followers through comments, likes, and shares can foster a community around the salon's brand, further boosting its online presence. In summary, incorporating social media into the SEO strategy for salons can lead to improved search engine rankings, increased website traffic, and a stronger online presence, ultimately helping them attract more clients and grow their business.
Conclusion: Staying ahead in the digital search game.
In an industry as competitive as beauty, staying updated with the latest SEO strategies is crucial. Embracing SEO is not just about keeping up with the digital age; it's about staying ahead. Salons that effectively leverage SEO in their beauty marketing strategies will not only see an increase in web traffic but, more importantly, an influx of customers walking through their doors.