Introduction
Salon businesses are often the unsung heroes in the world of beauty and relaxation. Whether it's for a quick haircut or an extensive spa treatment down to solving serious skin and body problems with specific courses of treatments, salons need efficient management systems to provide the best services and experiences for their clientele.
How do we streamline appointments, billing, customer management, and more? The answer lies in salon software and spa software and you will get this info straight from someone that has no financial interest or ties to software companies in anyway as we write this blog.
But how do we find the best salon software that fits our needs? Let's delve into this comprehensive guide.
Understanding the Need for Salon Software
Digitization in Salon Business
In the age of technology, going digital is no longer an option; it's a necessity. Salon software simplifies:
Bookings and Scheduling: Ensures that appointments are never overbooked or missed.
Inventory Management: Keeps track of products and equipment.
Customer Relationship Management (CRM): Helps in retaining and understanding clients.
In today's day and age, if you do not have the ability to take online bookings, you will find it very tough to grow, We have found from advertising salon, clinic, and spa businesses since 2018 that people's attention spans every year become shorter, and you want to be able to capture their attention at all hours of the day. If you aren't using a salon software of some sort to take online bookings 24/7 all of this traffic you would of converted online will go straight to your competitors.
Who Can Benefit from Salon Software?
Salon Business Owners.

Beauticians, therapists and Hair Stylists.

Spa Managers & Spa Business Owners.

Clinic Business Owners & Clinic Managers.
Salon marketing, clinic marketing and spa marketing professionals that are working with these types of businesses outlined above because they can work out where they need to focus on with the marketing their producing for these businesses
Key Features to Look for in Salon Software
User-Friendliness
Does the interface feel intuitive? If your grandma wanted to book an appointment, could she do it without calling you for help? Usability is king!
Customization
Can you tailor the software to your salon's unique needs? Think of it as choosing the right hairstyle for a customer. It must be a perfect fit!
Integration with Existing Systems
Most salon software systems already do this, but some do it better than others so make sure that you are able to integrate as much as possible because this will allow you to automate a lot of the client follow up and appointment reminders to reduce no show rates.
Th biggest problem with pretty much all salon softwares we have used has been this one area so make sure you check this part out
Customer Support
If you had a reaction after a treatment, you will call your therapist, right? It's the same with your salon software; robust customer support is essential. Make sure you have an account manager to call if something goes wrong, and that they are preferably available in your time zone. There IS NOTHING WORSE THAN A SALON SOFTWARE COMPANY YOU CANT GET HOLD OF AND HAVE TO CALL AT 11PM OR 12AM.
Reviewing the Top Salon Software Solutions
Fresha Partner Salon Software - Subscription Free Salon Software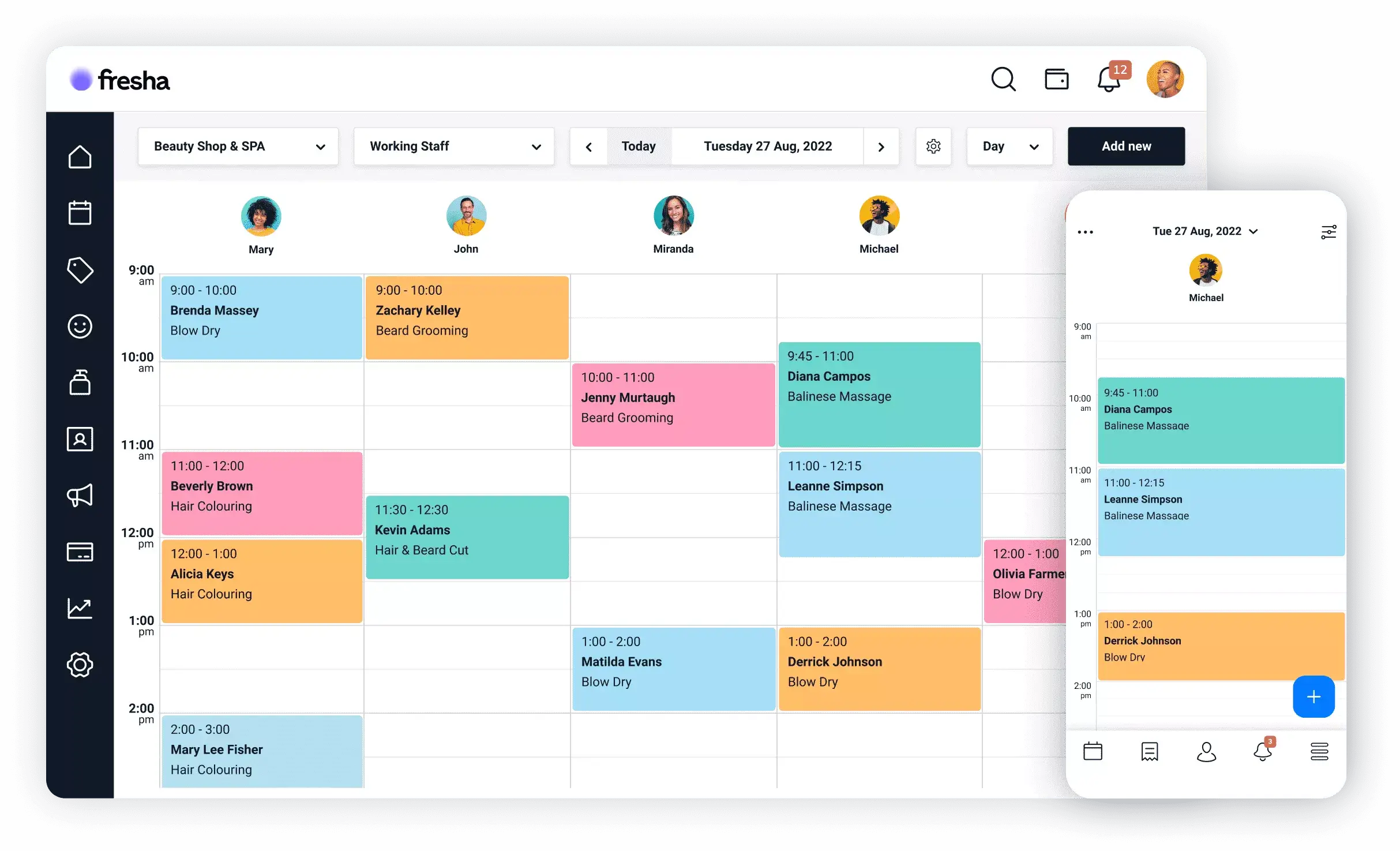 The Fresha partner salon software we would class as something that works well for any salon.
Fresha partner salon software is now in over 120+ countries world wide, more than 100,000 partners, 450,000+ stylists, and professionals, plus more than 700 million appointments booked through their systems
From a Business perspective, the salon software, being it has no subscription depending on the size of your salon it can save you thousands of dollars in software costs each year, If you're not tech savy its pretty simple to get up and running without having to learn heaps of new things
The standard charge for text messages is pretty standard across salon software; however, the charge for email is a little rich considering you can get it for free through other email marketing platforms like MailChimp.
With fresha partner salon software you also need to be aware there is a marketplace available on the app which is an amazing tool for stylists and beauty businesses because it promotes your business to the fresha audience, One thing to be aware of here is that if a booking comes through their marketplace, you will be charged 20% of that booking as a commission for the first appointment of that new client.
From the client's side if the business owner has structured the software well it is pretty seamless for them, if not structured very well by the business it can be a little confusing for your potential clients
Pros:
Free to use with no subscription.

Integrates with Facebook, google and Instagram.

It's pretty easy for you and your team to use.

Straight forward for a client to use.

Tracks all your inventory well.

Portal fees are reasonable 1.29% processing fee + 0.26.

Automated follow up to re-engage clients via text that haven't been to you in a while.

When you do get a rep to work with you, they are great help and support.
Cons:
Limited support you are left to work things out yourself when you sign up.

You can't really customize your own platform in anyway to your branding.

Doesn't connect with other marketing systems you may have for email marketing etc.

Charges you for every email you send.

20% commission when they find you a client through their platform.

After a client checks out through their systems with you, they get sent a little notification showing other competing salons in your area.

They request 5 star reviews on their platform to build your presence as oppose to your google listing to get more visibility.

Doesn't really track new clients that come through your salon each week / month which is an important metric to track in reporting to fed your growth.
Kitomba Salon And Spa Software For The Beauty Industry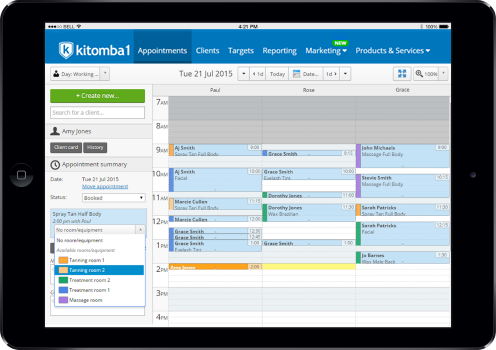 The Kitomba software review after using it for many years now I have found that there is many pros and cons for it. Kitomba is one is quite a popular salon spa software in Australia
From a business perspective the spa software is reasonably simple to navigate booking appointments, the reporting is quite in depth from each team member to the whole business.
Pros:
The kitomba salon software has extensive reporting functionaility from Sales Reports, Appointment Reports, Client Reports, Stock and Inventory Reports, Staff Performance Reports, Marketing Reports, Financial Reports, Loyalty Programs and Gift Voucher Reports, Online Booking Reports, Daily and Monthly Summaries, Visit Frequency Reports.

Simple online booking process for clients.

You can pre-select services copy the link and send to clients which enables a slightly quicker booking process online.

2 way sms for clients communication.

Inventory management with some great ordering systems to send to your suppliers.

Great client support systems for their salon software.
Cons:
Price: For smaller salons or those just starting out, the pricing might be a bit steep. It's essential to weigh the cost against the features and benefits provided. One of our clients were paying approximately $1200 a month for 5 people and 1 location which they asked for a better deal and got it 3 to 4 years into using kitomba salon and spa software as their main provider.

Customization Limitations: While Kitomba is feature-rich, there might be specific requirements or customizations that some businesses need that the software doesn't natively support.

Learning Curve: While it's designed to be user-friendly, some users have mentioned that it takes a little time to get used to all the features and get the most out of the software.

Occasional Glitches: As with many software platforms, there might be occasional technical glitches or downtimes. However, their customer support is known to be responsive in such situations.
Timely Salon Software Review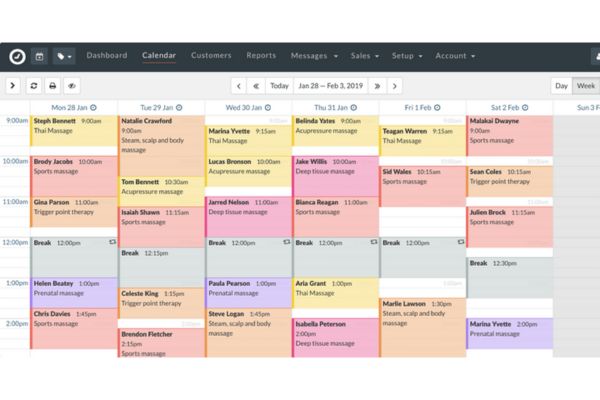 Timely is an appointment booking software that is designed for service businesses. It offers scheduling, calendar management, and other features to help businesses manage their appointments and improve client relationships.
Features:
Online Bookings: Clients can book their own appointments through a customizable booking page, reducing the administrative load on businesses.
Calendar Sync: Timely can sync with other popular calendars like Google Calendar, ensuring appointments are never double-booked.
SMS and Email Reminders: These reduce no-shows by reminding clients of their upcoming appointments.
Staff Management: Allows for multiple staff schedules, performance metrics, and more.
Sales & Payments: Integrates with payment gateways like PayPal for invoicing and receiving payments.
Reporting: Offers insights on bookings, sales, and customer data.
Integrations: Connects with various third-party apps and services, making it versatile for different business needs.
Pros:
User-Friendly: The interface is intuitive and easy to use for both businesses and their clients.

Mobile Capabilities: They offer a mobile app, which is convenient for businesses on the go.

Reliable Support: Timely offers good customer support for its users.

Customizable: From the booking page to notifications, many aspects of the software can be tailored to fit a business's branding and needs.
Cons:
Pricing: For small businesses or single operators, the pricing might be on the higher side compared to other basic solutions.

Advanced Features: While Timely covers the basics very well, some businesses might find it lacking in more advanced features or niche-specific tools.
Making the Final Choice
Comparison and Consideration
Compare the options like you would compare shades of nail polish. Consider your needs, budget, and specific requirements. We will update this blog over time as we have more info on different softwares for comparison. YOU CAN ALWAYS REACH OUT TO US FOR A CONFIDENTIAL CHAT AROUND SOFTWARE IF YOU WOULD LIKE SOME RECOMMENDATIONS ON WHAT MAY BE BEST FOR YOUR SITUATION. in the meantime here is what we would do
Free Trials and Demos
Ever tried a new shade of lipstick at the store? Similarly, utilize free trials and demos to get a real feel of the software. Get access to all the systems and just play around with them all and see what suits you better as a software
Consulting with Experts
Don't shy away from professional advice. Sometimes, consulting an expert is as necessary as consulting a stylist before a major hair transformation. We are happy to support here we may be able to give you some hints that will save you thousands on your salon / spa software
Conclusion
Choosing the right salon software is akin to selecting the perfect hairstyle; it has to be just right. By understanding your needs and reviewing the top options, you can find the salon software that's tailored to your business. Remember, it's not just about managing; it's about growing and flourishing.
FAQs
What is salon software? - Salon software helps manage bookings, inventory, client relationships, and more in a salon or spa.
How much does salon software cost? - salon booking software is a must have for all salons in the digital age some are free like fresha or square others can range from $20 a month to thousands a month depending on the feature involved added to your package, how many users you will have and how many locations your business is managing.
How do I choose a good salon software? - you need a good salon software to do the basics like book an appointment, remind a client of their booking, automate follow up to remind clients of their bookings and report on the health of your business and amplify your brand by helping you get more reviews everyday.
Can I try salon software before purchasing? - Yes, most vendors offer free trials or demos make sure to use these prior to making any decisions on what software you would like to use from any company some will be easier for you than others and this can also be a personal decision.