Are you a medical spa owner looking to promote your business and attract more clients? One effective way to achieve this is by running Google Ads campaigns. In this comprehensive guide, we will walk you through the steps of running successful Google Ads for your medical spa. By following these steps, you can increase your online visibility, reach a wider audience, and drive more traffic to your spa's website.
Introduction
Online advertising is an essential tool for marketing medical spas in today's digital era. However, many medical spa owners find the process of running Google Ads intimidating and believe it requires a substantial financial investment. In reality, running Google Ads for your medical spa involves a series of steps that can be accomplished without breaking the bank. By following the strategies outlined in this guide, you can effectively promote your medical spa and achieve successful advertising results.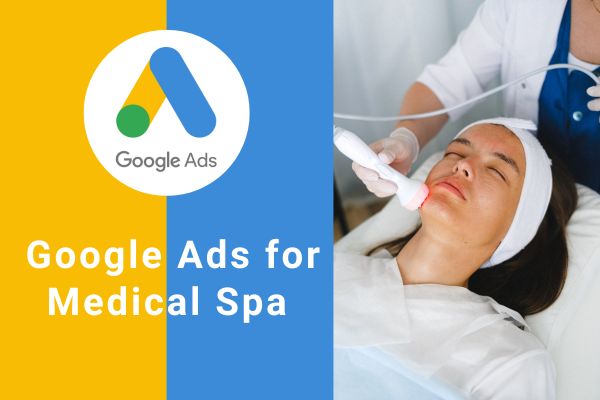 Step 1: Set a Budget
Before diving into running Google Ads, it is crucial to establish a budget that aligns with your financial goals. Determine how much you are willing to spend for each click or action generated through Google Ads. By setting a budget, you can control your expenses and optimize your ad campaigns effectively.
Step 2: Conduct Keyword Research
Keyword research is a vital component of running successful Google Ads. Identify relevant keywords and phrases that potential clients might use when searching for medical spas or related services. Use keyword research tools to discover high-volume and low-competition keywords that can help you target your audience effectively.
Step 3: Create Compelling Ad Copy
Craft compelling ad copy that entices potential clients to click on your ads. Highlight the unique services and benefits your medical spa offers. Focus on the value proposition, such as advanced treatments, experienced staff, relaxing environment, or special promotions. Ensure your ad copy is concise, engaging, and aligned with your target audience's interests.
Step 4: Design Landing Pages
When users click on your Google Ads, they should be directed to relevant and optimized landing pages on your website. Create dedicated landing pages that provide comprehensive information about the specific services or promotions mentioned in your ads. Optimize these landing pages with compelling headlines, persuasive content, clear calls-to-action, and contact forms to capture leads.
Step 5: Set Up Conversion Tracking
To measure the success of your Google Ads campaigns, set up conversion tracking. This allows you to track the actions taken by visitors on your website, such as appointment bookings or form submissions. By analyzing conversion data, you can optimize your ad campaigns, improve targeting, and maximize your return on investment (ROI).
Step 6: Monitor and Optimize
Regularly monitor the performance of your Google Ads campaigns. Identify which keywords, ads, and landing pages generate the best results. Adjust your campaigns accordingly by pausing underperforming ads, refining targeting settings, and optimizing your landing pages. Continuously testing and refining your ads will help you improve their effectiveness over time.
FAQs
Q1: How much does it cost to run Google Ads for a medical spa?
A1: The cost of running Google Ads for a medical spa varies based on several factors, including your budget, competition, and target audience. It is essential to set a budget that aligns with your business goals and optimize your campaigns to achieve the best possible results within your allocated budget.
Q2: Can Google Ads help attract more clients to my medical spa?
A2: Yes, Google Ads can significantly increase your medical spa's visibility and attract more clients. By targeting relevant keywords and creating compelling ad copy, you can reach potential clients who are actively searching for the services you offer. Google Ads provide an effective way to expand your customer base and generate more appointments.
Q3: How long does it take to see results from Google Ads?
A3: The time it takes to see results from Google Ads can vary depending on various factors, such as your ad campaign's optimization, competition, and market conditions. It is essential to continually monitor and optimize your campaigns to improve their performance over time. With effective targeting and optimization, you can start seeing results within a few weeks.
Conclusion
Running Google Ads for your medical spa is an effective strategy to enhance your online presence, attract more clients, and increase revenue. By following the step-by-step process outlined in this guide, you can optimize your ad campaigns, reach your target audience, and generate more appointments for your medical spa. Remember to set a budget, conduct thorough keyword research, create compelling ad copy, design optimized landing pages, track conversions, and regularly monitor and optimize your campaigns. With consistent effort and refinement, you can achieve successful outcomes and grow your medical spa's business.